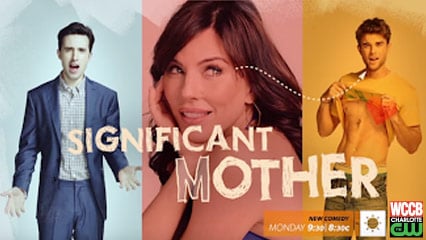 How far will Jimmy and Lydia go to keep their relationship a secret from her mom? Significant Mother is new on Monday at 9:30 on WCCB, Charlotte's CW.
About Significant Mother
In SIGNIFICANT MOTHER, budding Portland restaurateur Nate's (Josh Zuckerman) world is turned upside down when he comes back from a business trip to find his lothario best friend and roommate, Jimmy, is now dating his recently separated mother, Lydia (Krista Allen). To make matters worse, Nate's previously disinterested dad, Harrison (Jonathan Silverman) is now determined to win Lydia back and isn't afraid to use Nate to get what he wants. Stuck between his family feud and his best friend's first serious relationship, Nate's "new normal" forever changes his relationships with his parents, and severely handicaps his own dating life.