The Edgitators: What Was the Worst Part of the VMAs?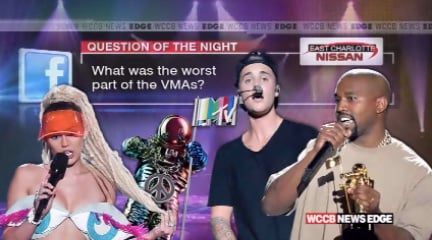 From triumph and tears, to politics and bare boobs… there were plenty of outfits and outbursts at the VMAs last night.  Nicki Minaj kicked things off with a surprise performance with Taylor Swift, proving the pair has buried their bad blood following that Twitter feud earlier this summer.
Nicki's moved onto a new beef with a new celebrity: Miley Cyrus.  She said, quote: "And now back to this b— that had a lot to say about me the other day in the press. Miley, what's good?!"
And from bad words to bad outfits… Miley Cyrus continues the controversy, wearing a series of barely-there outfits and even flashing her boob!  
Meanwhile, Justin Bieber gets emotional, bursting into tears during his first VMA performance in five years.  And Taylor Swift wins big, taking home Best Video of the Year.
But in the end, it was Kanye West who stole the show.  The rapper gave a long, rambling speech while accepting his Video Vanguard award, but this was the weirdest thing he said: "And yes, as you probably could have guessed by this moment, I have decided in 2020 to run for President."
And that brings us to our Question of the Night: What was the worst part of the VMAs?  The Edgitators battle it out…