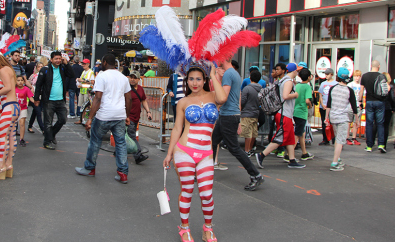 CHARLOTTE, N.C. — A Bank of America executive from Charlotte has allegedly been charged in the  assault of two topless desnuda street performers.
Mark Walters, 46, reportedly posed for a picture with the women, Lourdes Carrasquillo, 32, and Maria Ruiz, 20, in Times Square on Wednesday night.
Officials say Walters realized his wallet was missing from his back pocket when he tried to tip the performers, and accused the two of pick pocketing. When Carrasquillo walked away, Walters reportedly pulled her to the ground by her ponytail. He then elbowed Ruiz in the side of her face when she tried to intervene.
According to reports, Walters was supposed to return to Charlotte on Thursday, but is instead being held at Midtown South Precinct.