Celebrate The Flash at JJ's Red Hots & More!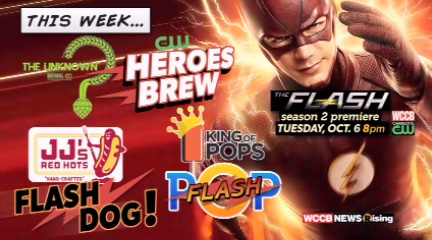 The Flash returns next week so celebrate big around town with fun, Flash-themed products at JJ's Red Hots, King of Pops and Unknown Brewing Company!  
The CW Street Team will be at JJ's Red Hots Ballantyne location Wednesday and the Dilworth location Thursday at lunch time playing plinko for Flash CWag!  Grab a Flash Dog and a Flash Pop for dessert!
Then stop by the Unknown Brewing Company on Sunday, October 4th for the release of their limited batch CW Heroes Brew!
Join us at Heroes Aren't Hard to Find comic book store on Tuesday, October 6th for the premiere of the Flash.  Starting at 6pm, come out to win Flash prizes from the CW Street Team.  Frank the Tank, JJ's Hot Dog truck, will be there as well as King of Pops and Tastebuds popcorn.  We will watch the premiere of The Flash live at 8pm followed by a live streaming Flash Chat with Just Jess.  Plus, score a limited edition Flash poster by local artist, Andy Smith!