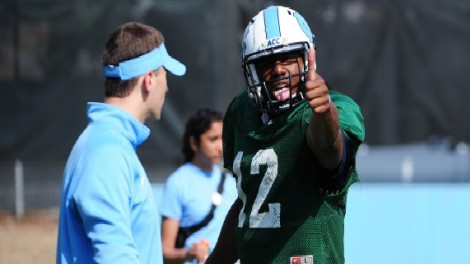 ASSOCIATED PRESS
CHAPEL HILL, N.C. — Marquise Williams is once again listed as the starting quarterback for North Carolina.
Mitch Trubisky remains the backup on the depth chart released Monday ahead of this week's visit to Georgia Tech.
"I don't want to start some type of controversy, because there's not" one, coach Larry Fedora said.
Williams, a senior who set 18 school records last season, did not play during the second half of a
Trubisky took over during the final possession of the first half for the Tar Heels (3-1) and finished 17-of-20 for 312 yards with four touchdowns.
Fedora said he switched quarterbacks because he "was looking for a spark offensively" and that as Trubisky "got rolling, he got hot."
Williams was sacked for an 11-yard loss on his final play, but Fedora said the switch "had nothing to do with that sack."
Fedora said he discussed the move with Williams and "he knows why I did what I did on Saturday." The coach said he is sure Williams "knows that I have complete confidence in him."