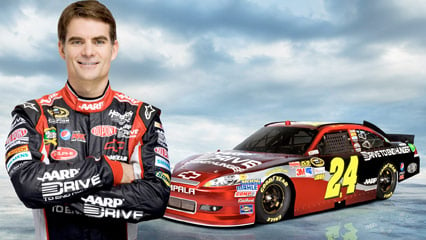 TALLADEGA, Ala. (AP) _ Jeff Gordon has won the pole for his final race at Talladega Superspeedway. 
   Gordon led a Hendrick Motorsports domination in Saturday qualifying at the 2.66-mile superspeedway, where he and teammate Dale Earnhardt Jr. both need strong runs to advance into the third round of the Chase for the Sprint Cup championship. 
   Four drivers will be cut from the Chase field following Sunday's race. Gordon is seventh in the standings, while Earnhardt is 11th in the 12-driver field. Both drivers are six-time winners at Talladega, and Earnhardt won the spring race here. 
   Gordon was followed in qualifying by teammates Kasey Kahne and Jimmie Johnson. Matt Kenseth, who is last in the Chase field, qualified fourth and Earnhardt was fifth. 
   Gordon won the pole at three of the four restrictor-plate races this year. The one miss? At Daytona in July, when qualifying was rained out.