The Watch with Will Kennedy: Mother Fights Back in Home Invasion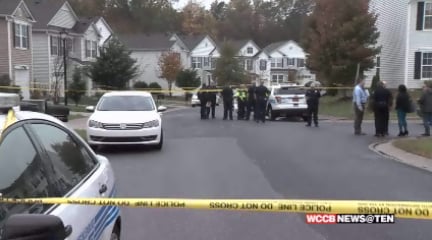 CHARLOTTE, NC — A woman home alone with her baby is shot by intruders, in broad daylight, during a home invasion.
Now we are learning new details about how the victim may have saved her own life, and tracking a dramatic rise in this type of crime in Charlotte.
"She started to come down when they busted in the door," says Paul Bunce, Jr., the victim's father in law. "She went back, and she defended herself the best that she could."
Semantha Bunce was home alone in East Charlotte Tuesday morning, feeding her four-month-old son, when crime came calling.
"She was here with her infant child, and the suspects attempted to break into their house," says CMPD Captain Chuck Henson. "She interrupted that burglary, and was shot during the process."
Semantha was hit at least twice. She is in critical condition in the ICU at CMC. The Army Reserve combat medic has already been through extensive surgery and could face more.
Family members say she shot at the intruders, then used her training to work with emergency operators until MEDIC arrived. Baby Bentley slept through the whole thing. His mother's quick thinking may have saved both their lives.
"When I did talk to Sam yesterday, she said the booger slept right through it," says Bunce. "She literally ran back up, and she was shot then, to get to her phone and call 911."
There is no statute for home invasion, and that can make these crimes tough to solve. CMPD does not have a Home Invasion Unit, so the cases could be tagged as an assault with a deadly weapon or homicide, a burglary, a robbery; or they could be given to a division detective.
CMPD doesn't usually track the number of home invasions, putting them in a variety of other categories.
But a recent internal crime report lists home invasion, and shows a 46 percent increase this year. And the reasons for the spike, just like the crimes themselves, can be hard to pin down. 
Police say the East Charlotte home invasion appears to be a random crime. We reached out to CMPD to talk about how the department plans to tackle this spike in home invasions, but no one would talk on camera about the problem.