Panthers Hit The Road To Support Proehl
Panthers Players And Coaches Travel To Greensboro to Support Proehl's P.O.W.E.R. Of Play Foundation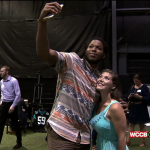 GREENSBORO, NC – After wrapping up week two of OTAs, more than 40 Carolina Panthers' players and coaches made the trip to Greensboro to support Ricky Proehl's P.O.W.E.R. Of Play Foundation.
Panthers players, including Kelvin Benjamin, Luke Kuechly and Ryan Kalil, along with other current and former NFL greats, joined former Panthers wide receiver, current wide receivers coach, Ricky Proehl, for this year's Ricky Proehl Celebrity Golf Classic.

The two day event featured a pairings party at Proehlific Park, followed by a round of golf at the Greensboro Country Club's Farm Course. More than $70,000 was raised during the annual fundraising event.
For more info on Ricky Proehl's P.O.W.E.R. Of Play Foundation: powerofplayfoundation.org