Woman vs. Man: Do You Need Permission To Change Your Look?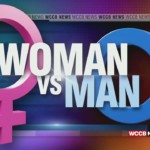 CHARLOTTE, N.C. – Every week, Jacinda and Fly Ty are going head-to-head on arguments that all couples have in 'Woman vs. Man'.
This week, the question is, Do you need permission from your significant other to change up your look?
Dynamic duo, Jacinda Jacobs and Fly Ty battle it out in Woman vs. Man.