MARTIN TRUEX JR. SAYS COCA-COLA 600 WIN WAS EXTRA SPECIAL
Martin Truex Jr. says his Coca-Cola 600 win was "icing on the cake."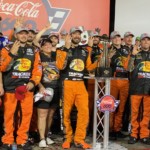 Martin Truex Jr. celebrated his third win of the season, his second career victory in the Coca-Cola 600.
But the former NASCAR Cup Series Champion did not forget the real meaning of Memorial Day.
After taking the checkered flag at Charlotte Motor Speedway, the Joe Gibbs Racing driver dedicated his win to those who made the ultimate sacrifice, our fallen military.
"This is for everybody who gave their life so we could be out here tonight," Truex said.
He added that winning the Coca-Cola 600 was "icing on the cake," after a special weekend.