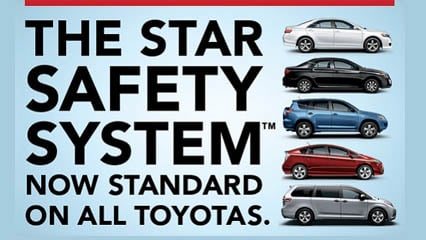 It's no secret that new Toyota in N Charlotte are safe cars. More than one model made the Insurance Institute for Highway Safety's 2013 Top Safety Pick List! If you're searching for a new vehicle at Toyota of N Charlotte that comes with the latest high-tech gadgets that help keep you and your passengers safe while you're on the road, then you'll love the different options that come in the new cars we have on our lot. 
Find a new Toyota in N Charlotte that meets your safety preferences
Trying to locate a new car that's not just affordable but also offers the security and peace of mind you're looking for is easy. Well, it's easy if you're interested in taking home a new Toyota near Charlotte! AutoTrader.com recently came out with a list of some of the most important safety features it's important for a car to have, and not surprisingly you can find all these features in new Toyota! 
Anti-Lock Brakes: This feature actually comes as part of the Toyota Star Safety System – standard in each new vehicle Toyota produces. It kicks into gear during panicked braking situations, and helps prevent the brakes from locking up, which results in shorter stopping distances!

Side-Curtain Airbags: If you tend to drive around town with lots of passengers on a regular basis then it's important to make sure your vehicle has this feature. Side-curtain airbags are specifically designed to deploy if a side impact occurs, which helps prevent head injuries. For passengers this means their head can be protected from hitting the side of the door if you happen to be involved in a car accident. 

Stability Control: Stability control has been argued to be one of the most important forms of safety features available for drivers today. With stability control in the car, drivers are able to steer out of a skid AND help you from sliding. 


Parking Assist: With the parking assist system in your vehicle, drivers get a much better view of what's taking place behind their car before reversing or while trying to ease into a parking spot. This system has also helped avoid back-over accidents when drivers haven't been able to see young children or small pets that get behind the car while it was reversing. 
Don't worry about safety when you're in a new Toyota!
Want to make sure you'll be safe on the road? Then check out all the safety features that can be found in new Toyota in N Charlotte! These are only a few of the different mechanisms that can be found in these cars. Even more high-tech options like the Safety Connect System are also available!
Ready to get inside a vehicle that will help you arrive at your destination safely and securely? We can help! Come by and visit us at 13429 Statesville Rd in Huntersville to check out all the affordable AND safe options we have for you to consider!