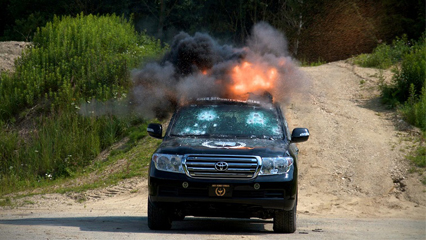 The N Charlotte Toyota Land Cruiser has plenty to offer when it comes to style and luxury – there's no secret about that! However, even though its interior might scream sophistication and refinement, these features don't keep this SUV from handling more rugged scenarios. 
In fact, the history of this SUV is based more on practicality than luxury. It was originally designed around the 1950s and built to be extremely practical. However, our N Charlotte Toyota dealership has recently heard that this SUV is sporting a whole new kind of look – and one that definitely can't be argued as being practical and durable!  
Grenades don't hurt the Toyota Land Cruiser
If you want a vehicle that can handle anything – in any scenario – then this new Toyota in N Charlotte can easily meet this preference! Ares Security Vehicles is a manufacturer who takes average day-to-day cars and turns them into armored vehicles that can handle practically any scenario. They're based overseas so we don't anticipate seeing an armored Toyota on our lot any time soon, but they do exist! Here are some of the modifications this SUV received while it was getting re-made. 
Armor: A special kind of B6 level armor is applied inside the cab of this SUV so that it can deal with stress if the exterior experiences some kind of impact. Because of this special armor, it can withstand a lot of different types of encounters that come from high-powered rifles, and the underbody of this SUV can even withstand the impact of hand grenades and land mines! 

Special windows: Of course, an armored vehicle doesn't do any good if the windows aren't able to survive any kind of damage. That's why the windows in this special Toyota Land Cruiser are multi-layered AND bulletproof – a result achieved from applying a special material to them called polycarbonate. 

Suspension: No one really enjoys a bumpy ride, but you won't have to worry about that when you're driving or riding shotgun in this Toyota SUV. It comes with a special suspension system that's easily able to support the extra weight the modification of this SUV brings – all without negatively affecting performance! 


Tires: You definitely don't' want to get a flat tire when you're driving this tough Toyota. That's why a special run-flat tire system has been installed. Even if the tires get punctured they won't deflate, which means you can keep travelling for an extra 100 miles – at 55 mph! 
Take home the stylish and spacious Toyota Land Cruiser in N Charlotte!
If you want to hit the road in a tough ride that still offers comfort and luxury, then you'll want to check out this new Toyota in N Charlotte. Even without the extra armor and modifications, this SUV is ready to take on practically any journey!
If you've never had the chance to enjoy luxury AND practicality at its finest, why wait any longer? Stop by and visit us at 13429 Statesville Road to check out the 2014 Toyota Land Cruiser for yourself!