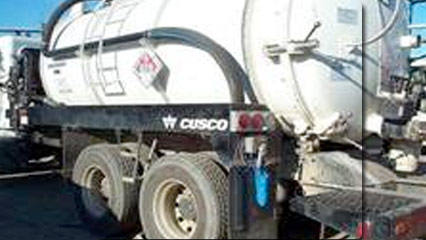 CHARLOTTE, N.C. — Officials have released a picture of a vehicle that depicts the same vehicle that was likely used to illegally dump chemicals into the Charlotte sewer system. 
Cleanup and the assessment processes continue following last week's discovery of illegal chemical dumping of PCBs and Trichlorobenzene into the Mallard Creek Wastewater Treatment Plant on U.S. 29. 
A second potential toxic dumping incident was discovered Saturday night at the Sugar Creek Wastewater Plant on Tyvola Road.  Advanced testing confirmed that the substance that flowed into the Sugar Creek Wastewater Treatment Plant did not contain PCB as originally suspected. 
Tests indicate the substance was ethanol, which is typical of a fuel spill.  There appears to be no connection between the Sugar Creek and the Mallard Creek incidents. 
The city drinking water supply was not affected by the incidents.  Officials say residents that live near both plants may notice increased odor around the plants.  The untreated water is being kept in an isolated storage area to be monitored as the plants' recovery and cleanup planning continues. 
Anyone with information about these crimes is asked to call Crime Stoppers at 704-334-1600.