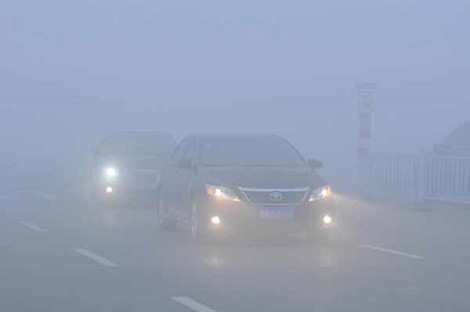 Our Toyota dealership has previously shared safe driving tips for taking on various weather conditions, including driving in rain and even in a tornado! This is because we want you to be prepared no matter what the weather is like. Now, Toyota of N Charlotte is sharing advice for driving in fog. Fog can pose a huge hazard when taking the wheel of your new Toyota in N Charlotte. How can you stay safe in this situation? Find out!
Makes sure your new Toyota is ready to take on fog


Before we get into the details of safely driving in fog, you want to be sure your new Toyota in N Charlotte is prepared to take on tough driving conditions at all times. Here are some of the steps you need to take BEFORE taking on fog  in your new Toyota:
Check your headlights and/or fog lights to ensure they're working and the light bulbs aren't broken

Check/replace your windshield wipers, so you know they'll be able to do their job when you need them most

Check your tire tread depth to ensure they're going to give you enough traction on slippery roads

Check your brakes, so you know you'll be able to come to a stop when necessary (even if it's an abrupt stop)


All of these tasks can be taken care of at our Toyota Service Center in N Charlotte! Our professionals can fully inspect your vehicles and fix it with quality car maintenance to ensure it's ready for anything that comes your way!
Toyota of N Charlotte shares safe driving tips for fog!


Fog may not sound as dangerous as rain or snow, but it can be extremely risky for drivers! When you get behind the wheel of your new Toyota in N Charlotte on a foggy day, keep these safe driving tips in mind:
Drives slowly – You always want to slow down when you're facing dangerous driving conditions, as you want to try to stay in control of your new Toyota and the situation as much as possible!

Keep extra distance between cars – You never know when the car in front of you can come to an unexpected stop (especially when you can barely see in front of you), which is why you want to keep s safe distance!

Use your low beams and fog lights – When driving in fog, you never want to use your high beams (used low beams)! This is because the light can reflect off the fog and take it even harder for you to see! 

Turn on your fog lights and windshield wipers  – If your new Toyota in N Charlotte has fog lights, we suggest you take advantage of them! Don't forget to also turn on your windshield wipers, as fog can cause condensation to settle on glass.

Use the right side of the road as a guide – If you can't see too far ahead of you, just use to right side of the road as a guide to ensure you're staying in your lane and on track!


Visit Toyota of N Charlotte today to find a new Toyota that can help keep you safe at 13429 Statesville Rd. You can also call (888) 883-3797 for more information.