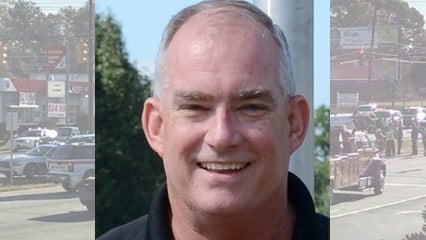 MONROE, N.C. — Sgt. Jeffrey Wayne Greene, 54, was killed after a tractor-trailer truck overturned on top of his patrol car in Union County.  Now, the driver of the truck is facing charges.
Investigators say a tractor trailer truck was heading west on Highway 74.  The driver allegedly could not stop the truck fast enough when the truck approached the intersection of Highway 74 and Sutherland Avenue.  
The patrol vehicle was in the left lane waiting to turn on Sutherland Avenue.  A passenger car was in the center lane and a tanker truck was in the right lane.  
The truck driver swerved to avoid hitting the tanker truck, jack-knifed and landed on both the passenger vehicle and the patrol car.  
Greene car was pronounced dead on the scene.  The truck driver and the driver of the passenger car were both taken to a local hospital with minor injuries.
Investigators say the driver of the tractor trailer truck will be charged with misdemeanor death by motor vehicle.  
The accident happened just after 7am.  The NC Highway Patrol is investigating the fatal wreck.  
Sgt. Greene began his career with the Union County Sheriff's Office in December 2004.  Greene was promoted to the rank of Corporal in November 2005 and subsequently promoted in September of 2006 to Sergeant.  
He currently supervised the Support Services Bureau which overseas the issuance of gun permits, fingerprinting and sex offender registration.  Greene was also a proud Air Force Airmen and a United States Marine, serving his country for 10 years and receiving an Honorable Discharge in 1989.
He is survived by his wife April, children Nicolle and Allison and give grandchildren.  
Sheriff Eddie Cathey says, "Jeff Greene was a personal friend, a family man, and a valuable member of our Sheriff's Office family.  His loss is a tragedy, not only to his family and friends, but to the citizens of Union County.  His orientation of service to the community was a quality that should be embraced and emulated by us all.  He will be missed."