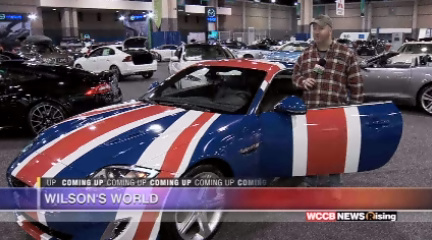 CHARLOTTE, N.C. –   Wilson is not one to have his head turned easily, but this morning he fell in love.   But it was a car that got his attention.  The 22nd Charlotte International Auto Show is sure to have a lot of cars that will grab your attention also.
From today's state of the art new car to the classics of yesterday,  this year's show has it all.  You can check out that car you have always talked about buying while reminiscing about the ones you loved as a child.
The show kicks off at noon today and runs through Sunday at 6pm.  On Saturday and Sunday licensed drivers can ride and drive that dream car.  Santa will be at the show Saturday and Sunday from 12pm until 4pm.  Although families are welcome each day, Sunday is officially family day at the show.  Kids can not only talk with Santa, but enjoy special appearances from Sir Purr, Hugo,  and  Chubby.
Check out their website at charlotteautoshow.com for more information on all the events going on during the show.
Be sure to follow Wilson on Twitter @WilsonsWorld and online at WilsonsWorld.com.