Two Arrests in Murder of York County Parents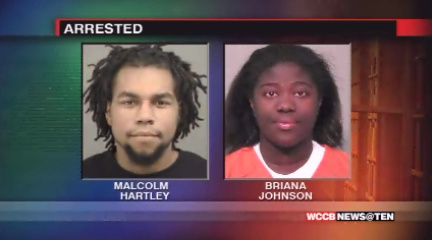 [gtxvideo vid="8zLqrBPz" playlist="" pid="Bbt3TRDe" thumb="http://player.gtxcel.com/thumbs/8zLqrBPz.jpg" vtitle="double murder arrest"]
YORK COUNTY, SC — Two arrests in the case of a mother and father murdered in their Lake Wylie home leaves a neighborhood relieved.
Investigators announced Friday that they connected the October homicide to Malcolm Hartley and Brianna Johnson.
"I was very scared, because I didn't know what was going on around here," said Kim Broome. 
The victims, Debbie and Doug London, died when someone broke into their home and shot them. The Londons' son, Daniel tells WCCB Charlotte: "My family and I are eternally grateful for all of the hard work and dedication that law enforcement has shown. They are the heroes that protect us. May the people who were arrested for this terrible crime answer for their evil actions. I would like to thank God for His justice and strength. Thank you to the media for all of your coverage. May everyone in our community feel safer tonight knowing that these criminals are off the streets."
For months, he and neighbors worried they were in danger. However, Friday, investigators were clear that they believe Hartley and Johnson targeted the Londons specifically. In May, gunmen robbed the Londons' mattress store on S. Boulevard in Charlotte. Doug London shot one of the suspects, badly injuring him.
David Fudge, Jamell Cureton and Nana Adoma all face federal charges for the crime. According to court documents, Fudge admits he's affiliated with the Bloods gang. The FBI has stepped in to see if that robbery connects with the Londons' murder. 
"Obviously, with them becoming victims of this horrendous act, it was a logical connection that we become involved and share the information we have and look for connections between the two matters," said Special Agent John Strong. 
"I am shocked," said Broome. 
Residents are waiting for more answers as to how the suspects could have picked out the Londons.