Victim's Family Questions Motive in Chapel Hill Shootings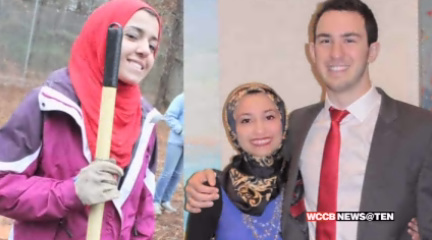 [gtxvideo vid="t5ocJmyb" playlist="" pid="Bbt3TRDe" thumb="http://player.gtxcel.com/thumbs/t5ocJmyb.jpg" vtitle="unc shooting"]
 CHAPEL HILL, NC — The accused killer is a neighbor. The possible motive, a dispute over a parking space. But a Charlotte attorney who was close with one of the victims questions the true motive for the murders.
"This was premeditated, cold blooded murder motivated by hate," said Charlotte attorney Mo Idlibby. "Hate based upon their religious faith."
Idlibby was friends with Deah Barakat, who was killed along with his new bride and her sister Tuesday evening in Chapel Hill.
46-year-old Craig Hicks is charged with the execution-style murders. All three victims were shot in the head.
A preliminary investigation determined the shooting was connected to an ongoing dispute over parking, a motive backed by Hicks' wife.
"This incident had nothing to do with religion or victim's faith, but in fact was related to the long-standing parking disputes that my husband had with the neighbors," said Karen Hicks.   
"You don't kill three people over a parking space," said Idlibby.
Hicks made a preliminary court appearance Wednesday. The self-proclaimed "gun-toting" atheist has a history on social media of criticizing both the Muslim and Christian faiths. 
"We are still in a state of shock, and will never be able to make sense of this horrendous tragedy," said Suzanne Barakat, the victim's sister. 
Idlibby has been in contact with Barakat's brother, who says the UNC dental student and his wife Yusor had several run-ins with Hicks.
"He said that the neighbor would confront them," said Idlibby. "At various times, that he would have a gun with him, by his side."
A Muslim advocacy group is calling for a hate-crime investigation, asking police to address speculation about possible religious bias in these murders.
"If this was a Muslim that went in and killed three people, cold-blooded execution style, the headlines would all be about terrorists and extremists, fundamentalists," said Idlibby.
Chapel Hill police say they are investigating to determine if religious bias may have played a role.     Hicks is being held in Durham County jail on first-degree murder charges.