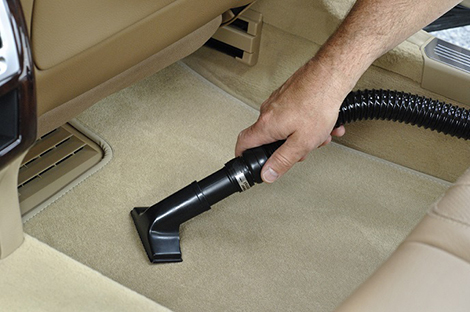 Spring is just around the corner and we're willing to bet that many of you will be partaking in spring cleaning! While it's smart to clear out your home of clutter, you must not forget about your car! Here at our Charlotte Toyota Service Center, we think you get your car into sparkling order this spring. For that reason, we're sharing Toyota service tips for you to get your ride spic and span!
Charlotte Toyota Service Center shares tips for car spring cleaning
Getting your car in tip-top shape with car maintenance in Charlotte is extremely important; however, so is taking care of your ride and keeping it clean. A messy interior full of trash and dirt can actually affect the condition of the car. For that reason, it's extremely important that you take the time out to do some cleaning Toyota service! We're sharing tips on how you can get your ride sparkling clean. 
Clean out the interior: Our Toyota service techs suggest that you clear out the interior of your car. This means you should take out any trash or any miscellaneous objects you may have. You want to make the interior look like-new and keeping jackets and random objects in your car won't help you achieve that look! You also need a clear cabin in order to properly clean it with a vacuum cleaner!

Wipe down surfaces: Before you use a vacuum cleaner, wipe down surfaces so you can remove dust. Dusty surfaces will make your ride look dirty, even if the cabin doesn't have anything 

Vacuum the interior: Once you've cleared out the way, our Charlotte Toyota service techs suggest you use a vacuum cleaner to clean out the interior. Start by vacuuming the seats and working your way down to the floor. Move your seats so you can properly clean under them. We also suggest you take out the floor mats outside the car and vacuum them outside so you can get rid of all the dirt. 
Get necessary auto service: Another thing you should make part of your car spring cleaning is Charlotte auto service. Get any routine Toyota service done so your car can look like new AND handle like new! This means that you should get a necessary Charlotte oil change, as well as a tire rotation. Make your car look and feel like new with the help of our auto service center!

Wax your car: Once you've done all of the aforementioned tasks, make sure you wax the exterior of your car. Not only will this make it look sleek and polished, but it will protect the car paint job from the elements. We know that spring brings a lot of showers and pollen and you want to protect your car from these things!
Let our Charlotte auto service center get your ride ready for spring
While you can do the cleaning yourself, you should enlist the help of our Charlotte Toyota service techs for any car maintenance your car may need!
Visit us today at 13429 Statesville Road, just off I-77 at exit 23. We can be reached at 888-378-1214 if you have any questions.