LGBT Community Reacts After Controversial City Council Vote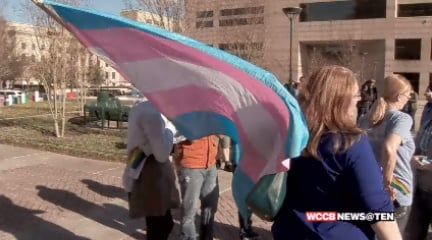 [gtxvideo vid="QGbScowC" playlist="" pid="Bbt3TRDe" thumb="http://player.gtxcel.com/thumbs/QGbScowC.jpg" vtitle="ordinance folo"]
CHARLOTTE, NC – The fight is not over. That's the message from the LGBT community in Charlotte following Monday night's controversial city council vote. 
The council voted 6-5 rejecting amendments that would have put gender identity and sexual orientation under protected classes in the city's non-discrimination ordinance.
24 hours later, supporters are regrouping. Members of the Charlotte Anti-Discrimination Ordinance Coalition met Tuesday night to discuss a plan to put more pressure on city council members who voted against LGBT protections in the city's Anti-Discrimination Ordinance.
"What I've been telling our folks today is this is not a setback at all. It's just a pause. A momentary pause and we're ready and able to move forward," said Scott Bishop, chair of the Mecklenburg Political Action Committee.
Bishop is part of Charlotte's Non-Discrimination Ordinance Coalition.
Advocates say there are talks about addressing this in the upcoming election.
"We'll be evaluating candidates as they file this summer and we'll be making probably hopefully stronger recommendations about who we want our community to vote for," said Bishop.
More than 200 local governments have passed protections similar to the one Charlotte rejected, including Raleigh, Winston-Salem, Myrtle Beach and Charleston.
Bishops says North Carolina lawmakers should take up this issue.
That hasn't helped in states like Arkansas, which passed a law last week that keeps cities or counties from overstepping state discrimination laws. Some say the existing laws don't protect the LGBT community.
Similar bills in Texas and West Virginia are not getting enough support to move through.
Out of the nation's top 20 largest cities, Charlotte is one of only four that does not have a similar ordinance similar to the one city council rejected Monday night.