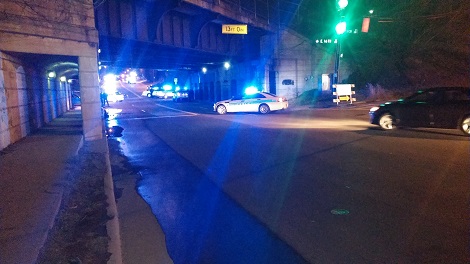 CHARLOTTE, N.C.– The Charlotte-Mecklenburg Police Department is conducting an investigation after an officer-involved shooting Saturday night.

Officials say they responded to a call in the 900 block of N. Tryon Street around 8:30 in reference to a large teen party taking place.  The caller told police that several males at the party were attempting to hide guns in their clothing, but once officers arrived on scene, the teens began to leave. 

A short time later, officers received a 911 call stating that shots were being fired in the 1200 block of N. Tryon Street. Officers responded to the scene in an attempt to locate the source of the shots and to disperse the crowd. 
Upon their arrival, officers saw a male with a firearm in his hand. Officers ordered the male to drop the weapon, but he refused their commands. Officer Paul Quinichett then discharged weapon, striking the male.
Medic responded to the scene and transported the male to Carolinas Medical Center with non-life threatening injuries. No one else was injured. 

Detectives with the Homicide Unit are currently on scene canvassing the area to determine whether there are any additional witnesses to the incident.

 The Internal Affairs Bureau will conduct a investigation to determine whether or not CMPD policies and procedures were followed.
 Police say that officer Paul Quinichett has been placed on Administrative Leave pending the outcome of the shooting investigation.  
Officer Quinichett has been employed with the CMPD since April 29, 2013 and is currently assigned to the Metro Division. 

Anyone with information about this incident is asked to call 704-432-TIPS and speak directly to a Homicide Unit Detective.  Detective Burkard is the lead detective assigned to the case.  you can also call Crime Stoppers at 704-334-1600 or visit the Crime Stoppers mobile app website at http://charlottecrimestoppers.com/.