Police: Teen Charged in String of Arsons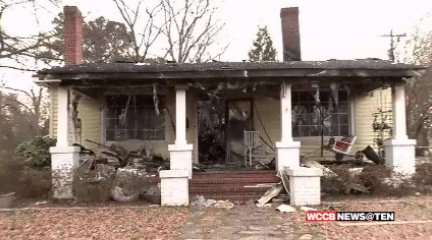 [gtxvideo vid="3qo2Z83U" playlist="" pid="Bbt3TRDe" thumb="http://player.gtxcel.com/thumbs/3qo2Z83U.jpg" vtitle="clover arson"]
CLOVER, S.C. – First a charming yellow house, gutted by flames. Then a fire at the brick home immediately next door. Then around the corner, a burglary at another yellow house. And finally, this past weekend, a fire at a two story brick Colonial.
All the crimes committed in the middle of the night. All the fires intentionally set. All using just a lighter, no accelerant. And the arsonist? 16-year-old Matthew Thomas Adkins, say Clover Police. They say he confessed. They charged him as an adult. Clover Chief Randy Grice says, "He was somewhat surprised I think but he was cooperative, he didn't give us any problems or anything." 
Adkins lives in the last house he's accused of setting on fire with his parents. They didn't answer the door Monday. Grice says, "His parents are disappointed, naturally, that he did that, but they were very very cooperative in anything that we asked them for. They helped us from the time we got to the scene to when we left. No issues with the parents at all." 
Neighbor Allison Nestlehutt was home when this house was set on fire March 8. She says, "We just saw flames going all the way up to the top of the trees, and I was thankful when I heard nobody was home." She doesn't know Adkins but says, "Bless his heart, I hate that he's so young," and, "Even his parents, they didn't do it, but they're still gonna feel responsible." 
As for a motive? It's one that can best be chalked up to youth. Grice says, "Well, it just looks like he just likes playing with fire." 
No people were hurt in any of the fires, but a pet cat did die. The Clover Police Chief tells WCCB Charlotte investigators are still looking into whether Adkins is involved in any other fires in Clover.