Transgender Journey: Charlie's Story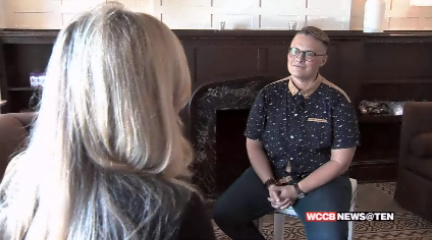 [gtxvideo vid="lyGDKC2f" playlist="" pid="Bbt3TRDe" thumb="http://player.gtxcel.com/thumbs/lyGDKC2f.jpg" vtitle="transgender"]
CHARLOTTE, N.C. – Missy's childhood seemed pretty ordinary, judging from the pictures. Adorable as a cherub-cheeked toddler, cute as a button even during those awkward pre-teen years and as a young woman, every inch "the girl next door." But outward appearances don't often tell the whole story. "Ever since I can remember, I've always felt like a boy, and now I feel like a man," says Charlie. Charlie changed his name from Missy in 2009. 
He's been giving himself daily testosterone injections for more than 9 weeks now. His voice has deepened and he's started growing facial hair. He says, "I actually had to shave, believe it or not, which was very exciting and awful at the same time before I didn't know what I was doing." 
Just a few months ago, Charlie took his transformation one step further and underwent what's commonly referred to as "top surgery" with Charlotte plastic surgeon Dr. Peter Capizzi of Stillwater Plastic Surgery in Myers Park. Charlie tells WCCB Charlotte News @ Ten anchor Morgan Fogarty, "I knew 100 percent of my being that this was absolutely what needed to happen for me to be authentic and true to myself." 
Charlie had the double D-sized breasts he grew up with removed. He says, "It was about a week of ouch and then a lifetime of happiness." 
Dr. Capizzi says medically, the surgery is a little different. He explains, "When you're doing it in a man, you have to limit the number of incisions because there's not really anywhere to hide them." Fogarty asked, "Philosophically, has it ever been a question for you?" Capizzi replied, "No. No, No. You know, we plastic surgeons, we trying to facilitate people living authentically or be, having a congruous life and make it that way. No, it's never been a question."
Capizzi says he expects demand for gender reassignment surgery in Charlotte to grow. This, on the heels of Charlotte City Council's recent vote to not offer non-discrimination protections to the LGBT community. Reasons cited included "Charlotte doesn't have a problem with discrimination," "the protections would infringe on conservative beliefs of others," "sexual orientation or gender identity are choices" or "what if a man just wants to put on a dress and prey on women or girls?"
Charlie says his goal in sharing his journey is to promote better understanding. He says, "I think there's a lot of courage from someone who doesn't understand it to actually dig in and say you know what, 'What's that like? Talk to me.' I think that type of person is far more courageous than me sitting here talking to you about how I'm trans." 
Charlie says he isn't interested in having any more surgical procedures. The full effects of his testosterone treatments will be evident in about 9 more months.