Edge on Demand: Making Roads Safer?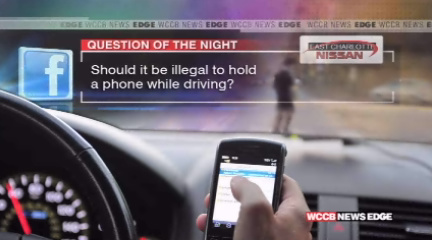 [gtxvideo vid="Wanc9NSn" playlist="" pid="Bbt3TRDe" thumb="http://player.gtxcel.com/thumbs/Wanc9NSn.jpg" vtitle="edge phones"]
A North Carolina lawmaker is proposing a bill that would make it illegal to hold a cell phone while driving.  But how hands-free do you need to be?  Is this proposal going too far?
North Carolina is already one of 40 states with a ban on texting and driving.   But that's hard to enforce.  All you have to do is tell the police officer you weren't texting, you were just looking at your phone.  This bill would make it a class two misdemeanor to get caught driving with your phone in your hand, no matter what you're doing: talking, Instagramming, Tweeting, reading an email, using GPS, whatever.  
Two exceptions would be if you're at a stop light or if you're calling 911 for help.  Violators would be fined $25 – $100 and repeat offenders would get points on their license.
But what do you think?  Should it be illegal to hold a phone while driving?
Plus:
Did Michelle Obama Shave Her Head?
Adam Ferrara Live in the Studio!