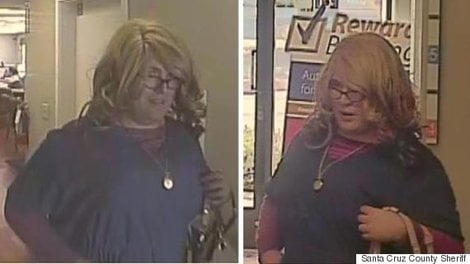 Santa Cruz, C.A. — Police are looking for a cross-dressing bank robber who allegedly robbed a U.S. Bank in California last week. 
Police in the area are referring to the bandit as "Mrs. Doubtfire," due to the similarity between him and Robin Williams' famous fictional nanny in drag. 
Police said the suspect was wearing a blonde wig, prescription glasses, navy blue scrubs and a light purple long-sleeved undershirt when he/she handed a note demanding money to the teller.
The suspect did not appear to be armed and no one was injured in the robbery.
According to Santa Cruz police, the cross-dresser is described as "roughly 25 to 35 years old, weighing 160 to 170 pounds and standing 5 feet 5 inches tall."
Police are asking for the public's assistance to bring him to justice.