Unused I-485 Lane Will Remain Closed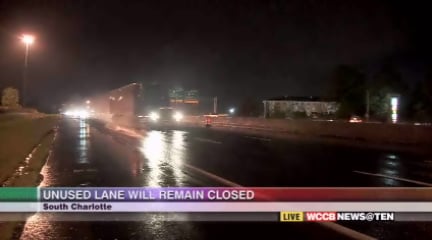 [gtxvideo vid="3Y11cjmo" playlist="" pid="Bbt3TRDe" thumb="http://player.gtxcel.com/thumbs/3Y11cjmo.jpg" vtitle="485 lane"]
 CHARLOTTE, NC — It's a done deal.  The hotly contested unused lane on I-485 will remain closed.
"I ask you to put yourself in the position of a driver on 485," said Rob Watson.  "One who is probably, right now, sitting in stop and go traffic."
Rob Watson is part of the Facebook group Open Our Lane.  The group's fight ended Tuesday night.  Charlotte Transportation officials voted to keep the unused lane on I-485 between I-77 and Rea Road closed.
"Everybody is going to have to keep going about their rush hour staring at orange and white barrels and staring at "Road Closed" signs," said Watson.
"I think it's crazy, stupid," said Sean, a Matthews resident who didn't want to give his last name.  "I don't appreciate it.  We pay enough in taxes every year."
The Charlotte Regional Transportation Planning Organization considered four areas: cost, mobility, safety and time.  There were three options on the table.
Option A: Stay the course and keep the lane closed with no additional cost.  Option B: Turn it into an HOV lane estimated at $1 to $2 million.  Option C: Open it as a general purpose lane for $1 million and scrap the toll lane project.
Tuesday's vote means the lane will remain closed until it opens as a toll lane in about five years.
"We're going to have managed lanes on I-77, Independence Boulevard and 485," said Charlotte City Councilwoman Vi Lyles (D).  "That's the only way we're going to be able to get the roads built in time for the people who are going to move to Charlotte."
But residents say that means more years of congestion and headache.
"Thirty extra minutes a day in rush hour traffic," said Watson.  "Thirty extra minutes over a five-year period is a month."
Construction on the I-485 toll lane is expected to begin in May of 2016, and open to traffic in December of 2019.