Stopping in at Mattie's Diner with Wilson to Preview Cops 4 the Cure Fire Truck Pull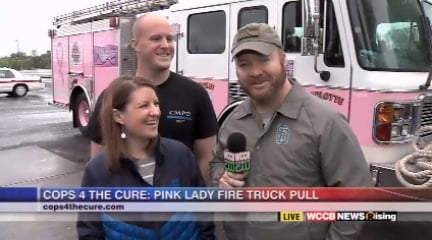 [gtxvideo vid="lVTEK20I" playlist="" pid="Bbt3TRDe" thumb="http://player.gtxcel.com/thumbs/lVTEK20I.jpg" vtitle="WW-Cops4Cure 4/16"]
CHARLOTTE, NC –  When a pink fire truck known as The Pink Lady drives through Charlotte, everyone will notice.  And this weekend, that big pink fire truck will be at Mattie's Diner helping to raise funds for Cops 4 the Cure.  Wilson was at Mattie's with the fire truck finding out more about the Cops 4 the Cure: Pink Lady Fire Truck Pull that will take place this Sunday.
Cops 4 the Cure is an organization that helps those who are affected by cancer or other  life threatening diseases both financially and emotionally while also promoting cancer awareness.  Wilson talked with one family who has been helped by the support of Cops 4 the Cure.
This is the 4th year Cops 4 the Cure has held the event.  Teams of 8 come together to see who can pull the Pink Lady the farthest.  Men, women and even kids can get into the Pink Lady Pull. Registration is open for participants who would like to be part of a team or who have a team already.  To register click HERE.  But even if you don't participant in the pull, you can still come out and support the event.   There will also be an area with vendors, music and much more.  It will be a great family fun event.  Wilson will even be there to make things more hectic!
Cops 4 the Cure: The Pink Lady Fire Truck Pull will be held at Mattie's Diner at the NC Music Factory, 915 Hamilton Street  this Sunday, April 19th from 11am until 5pm.  If there is bad weather, make sure to keep up with Wilson on Twitter @WilsonsWorld for rain date information or check the Cops 4 the Cure website.
Find out more about Cops 4 the Cure HERE.
Be sure to follow Wilson on Twitter @WilsonsWorld and online at WilsonsWorld.com.