The Get with Morgan Fogarty: Samantha Busch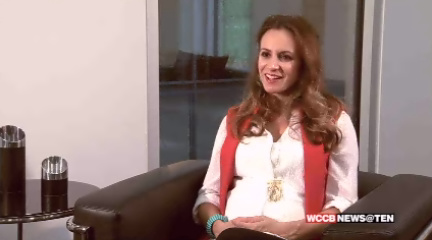 MOORESVILLE, N.C. – Two and a half years ago, Samantha Busch and her race car driver husband Kyle Busch decided the time was right to start a family. They figured it would be easy: they're both young and healthy. But after about 12 months of negative pregnancy tests, the couple went to the doctor to see if something was wrong. 
"In the beginning, I was really embarrassed. All my friends were easily getting pregnant. I didn't know what was wrong with me," says Samantha Busch. She was diagnosed with Polycystic Ovarian Syndrome. The couple headed to Charlotte's REACH (Reproductive Endocrinology Associates of Charlotte) clinic. "They just sat us down and said IVF is your only option," says Busch. 
She decided to share her path to pregnancy via In Vitro Fertilization with her fans and blogged about everything, from the prescriptions to the injections to the positive test. Busch says, "It was the coolest thing to see two pink lines after seeing so many negative tests!" 
The night she posted the first blog, Busch says, "I was sick to my stomach, I was so nervous, is this too much (to share)?"
But the feedback was tremendous. She was flooded with encouragement, not only from fans, but people in the NASCAR community who had kept their struggles with infertility private. Busch, now just weeks away from her due date, views their struggle as a blessing. She says, "It ultimately led to Kyle and I starting a fund that we're working on right now for the REACH clinic to help other couples pay to have their miracle babies, too."
The couple is having a baby boy, a choice they made when doctors told her they had a certain number of boy embryos and girl embryos. Busch tells WCCB News @ Ten anchor Morgan Fogarty, "Kyle's like, 'I want a boy!' I didn't care either way, I just wanted a baby. So we went with a boy but then the next one will be a little girl." 
Baby Busch's name is a secret until he is born. Busch will say it's a name she and Kyle easily agreed on. In addition to helping run Kyle Busch Motorsports and prepare for a baby, Busch is also helping her husband recover from a scary on-track injury where he broke his right leg and left foot. Kyle has already said he wants his son to race. Busch says with a smile, "After the incident, I was like, maybe he can golf. Golf seems safe. I think that's a great sport for him. But, no, you can't let your fears hold you back. If it's something he wants to do, I'll just wrap him in bubble wrap for that." 
She leans on other NASCAR moms for support: "Katie Kenseth, Jackie Bowyer and Jacquelyn Ragan, they're usually the ones I'm texting, what do I do about this, what do I have to do about this," explains Busch. But when it comes to motherly wisdom, Busch's already got that down pat. She wants her baby boy to know this: "How much I love him and that I would do anything for him. And to always be appreciative of the things in life. Because if I've learned anything from the whole IVF and Kyle's injury, it's that you can't take anything for granted. God blesses you, but He gives you challenges, too, and it's kind of how you come out of those challenges. Life isn't always gonna be easy, it's not always gonna be fair or fun, but you still have to be true to yourself and be a good person throughout it, and you should learn from those things." 
Busch's due date is May 18. She says Kyle is hoping Baby Busch comes early, specifically, on Mother's Day. Not only because of the holiday, but also because the baby's birthday would be 5-10-15.