Local Mom Says Employer Punished Her for Pumping Breast Milk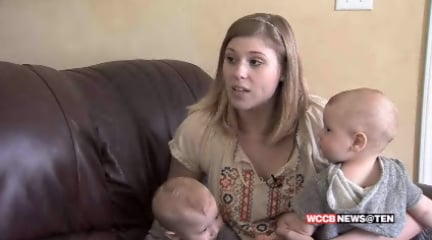 [gtxvideo vid="7vRbALed" playlist="" pid="Bbt3TRDe" thumb="http://player.gtxcel.com/thumbs/7vRbALed.jpg" vtitle="breast pump disc"]
CONCORD, N.C. –  "I never expected that I would be called indecent for pumping milk," says Brennan Atwell. She has 10-month-old twin boys she breastfeeds. She brought her breast pump with her to work as a waitress at the Union Street Bistro in downtown Concord. She says, "All they could offer me was a basement bathroom that was molded and just really unsanitary for pumping." And, "Their solution was to let me pump in the office in a busy area that had no door and a surveillance camera that I had to cover." 
Atwell says she noticed recently she wasn't on the schedule and approached one of her bosses. "So I asked her point blank, was I taken off the schedule because it's inconvenient for me to pump? And she said 'I'll be honest with you, it's not so much a matter of inconvenience, as it is indecency. We can't have you pumping here with as many male employees as we have.'"
Under federal law, employers are also required to provide "a place, other than a bathroom, that is shielded from view and free from intrusion from coworkers and the public, which may be used by an employee to express breast milk."
The owners of Union Street Bistro vehemently deny Atwell's accusations of discrimination. They sent WCCB Charlotte this statement: 
"The Union Street Bistro would like to give a statement regarding the recent accusation of discrimination against a nursing mother.
Ms. Atwell was an employee prior to and during her pregnancy.  After the birth of her children, she informed us of her decision to be a stay at home mom for her twins. We fully supported her decision, but were ready to put her back to work.  After a few months, she indicated that she wanted to return to work. We were happy to rehire her because she had been a good server.  However, due to our staffing, and her limited availability, we were only able to offer her a couple of shifts per week.
Shortly after being rehired, Ms. Atwell advised us that she would need time during her shift to pump breast milk and a private room with a locking door to pump. We were happy to attempt to accommodate her.  Unfortunately, our restaurant is in a building that is over 100 years old and only offered one room that was private with a locking door.  Ms. Atwell declined that room because it was in the basement.  She indicated she prefer the manager's office even though it had no locking door.  
Ms. Atwell also advised us that she would need to pump breast milk during her normal shift which was 4-5 hours long.  During these times, she would often be gone off the floor for 30-35 minutes. We are a small restaurant and that placed a heavy burden on the management and staff.  However, we accommodated her request.  
For business reasons, we were not able to provide her with a shift last week. She requested to fill in for another server on Saturday May 16th.  Although we accommodated all her other requests, we could not accommodate that request due to the restaurant being especially busy for local proms. 
Despite statements to the contrary, Ms. Atwell was not taken off the schedule and was not terminated.  

Our restaurant is local and family owned. We have 4 children in our family and respect breastfeeding mothers. We also have mothers who breast feed while dining with us.  We would never discriminate against Ms. Atwell or any other employee or customer for any reason whatsoever.  We welcome nursing mothers as employees, as we did Ms. Atwell, or customers and respect their right to breastfeed or pump breast milk.
Respectfully,
Anthony & Robin Honeycutt, Owners"
Atwell says she's been fired. The restaurant says she has not been fired nor taken off the schedule. Atwell says, "I refuse to feel shame for breast feeding my children."