CMPD Reviewing Video for Possible Drive-by Shooters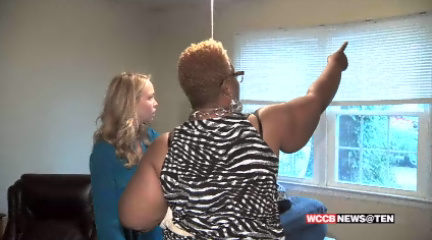 [gtxvideo vid="l2utf5Jv" playlist="" pid="Bbt3TRDe" thumb="http://player.gtxcel.com/thumbs/l2utf5Jv.jpg" vtitle="drive by video"]
CHARLOTTE, NC — Police are looking for the suspects in a drive by shooting Tuesday morning in Northwest Charlotte.
Bullets hit two homes and nearly hit a mother sleeping in her bed.
"Sometimes you got to learn the hard way, and this is not a safe place," said Ledra Mesta. 
Three bullets blew through Mesta's home on Celia Avenue before 1:30 Tuesday morning. One just missed her feet, hitting the top of the box spring of her bed.
"I'm scared. I've been sleeping in the back room with my daughter," said Mesta.
Her teenage daughter, Chantel Mesta, was down the hall when the gunmen fired.
"It shook me up," said Chantel. "To this day, I'm scared to come in here."
Next door, three bullets hit Thomasena Sturdivant's home. 
"Why? Really? Who does that?" said Sturdivant. "You shooting in people's house you don't know."
A neighbor's surveillance cameras were rolling. Police took the video. Detectives haven't released any information relating to it at this time in the investigation.
"We're always hearing gunshots over here," said Mesta. 
Tuesday's drive by is one of two violent crimes reported in the area that night. There were 17 in the past week, according to police. In the past year, officers worked 252 violent crimes such as robberies, assaults and homicides.
The drive by happened just blocks from Northwest School of the Arts.
"I've been walking to that school for almost three years now, and just think, imagine if that was your child walking over there and lived here, what would you do?" said Chantel.
The shots are enough to prompt her family to move.
"They need to have more police presence," said Mesta. 
If you know anything about this drive by, call Crime Stoppers. You could get a cash reward.