New CMPD Chief Will Face Early Challenge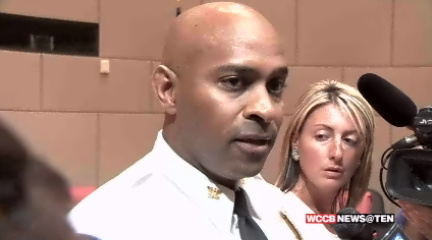 [gtxvideo vid="pkxeyawM" playlist="" pid="Bbt3TRDe" thumb="http://player.gtxcel.com/thumbs/pkxeyawM.jpg" vtitle="new chief"]
CHARLOTTE, NC — CMPD has a new chief-in-waiting. And for the first time in department history, it's a promotion from within.
Deputy Chief Kerr Putney will take the reigns when Chief Rodney Monroe retires, just days before CMPD officer Wes Kerrick goes on trial for killing Jonathan Ferrell.
"We continue doing business as usual," said Putney. "We keep moving forward. We keep giving our best to this community. We keep making this one of the safest cities in America."
The City of Charlotte introduced 23-year CMPD veteran Kerr Putney Monday as the first department chief ever promoted from within.
"He stepped into multiple roles, and multiple positions," said Charlotte City Council member LaWanna Mayfield. "He continued to grow and push himself. So I think we made the right decision by staying internal. But, as well, really identifying the best candidate."
Putney has served as officer, sergeant, captain, major and deputy chief. He's led each of CMPD's four main organizational groups under current chief Rodney Monroe, who was praised by city leaders for grooming his replacement.
"He's been able to nurture talent, and foster talent, and build a really, really strong second tier command organization," said Charlotte mayor Dan Clodfelter. "And those people are going to rise to the top, inevitably."
The new chief will have to rise to the challenge quickly.
Officer Wes Kerrick faces a voluntary manslaughter charge in connection with the 2013 death of Jonathan Ferrell, an unarmed black man who was shot 10 times from close range.
Putney was involved in the decision to quickly charge Kerrick. Supporters say he is the man to lead CMPD through a difficult time, with Monroe stepping down just three weeks before trial starts on July 20th.
"I have to get our people ready, our hearts and minds in the right place; so that unlike the DNC, we're going to be the target," said Putney. "We've just got to be prepared. We've got to be empathetic, compassionate. But we also have to make sure people respect our city."
"Chief Putney has his eyes on the right priorities," said Mayor Clodfelter. "He's observed the way that we've been able to manage that relationship between the police department and the community."
Putney will take the oath of office June 29th. Chief Monroe officially retires July 1st.