Emanuel AME Shooting Suspect Returns To Charleston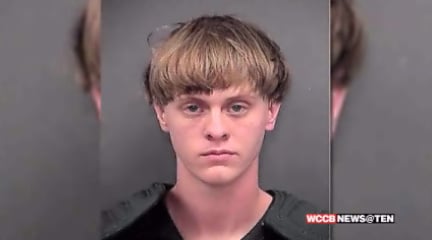 [gtxvideo vid="1R6pMhKx" playlist="" pid="Bbt3TRDe" thumb="http://player.gtxcel.com/thumbs/1R6pMhKx.jpg" vtitle="roof extradition"]
SHELBY, NC — Shelby officers escorted Dylann Roof out of the doors at the Shelby Police Department Thursday night.  Tonight, federal and local officials are thanking the woman who spotted Roof's car.
"I think God had me where I needed to be," said Debbie Dills.  "I'm sure it was. That's where my faith lies and I think the prayers of the people in Charleston were answered. God just used Todd and I as vessels."
On her way to a florist shop in Kings Mountain where she works, Debbie Dills spotted the black Hyundai Elantra she saw on the news.  It was on U.S. 74 and Plato Leed Road heading towards Shelby, with a South Carolina license plate.
"Then I saw his haircut from the back of the head and it was the bowl cut that I seen on the TV," said Dills.
Dills called her boss, who then called Kings Mountain Police.  Shelby Police were also notified.
Around 10:45am, officers stopped Roof's car heading towards Shelby on Dixon Boulevard. Roof was in the car alone, but officials say he did have a gun.  He was arrested just before 11am.  About four hours later, Shelby Police and federal agents escorted Roof out of the police department and into a squad car.  He was wearing a bullet proof vest.
"It's precautionary," said Shelby Police Chief Jeff Ledford.  "It's a high profile case. No threats or anything have been made or anything.  Just a precaution that we use."
Roof was taken to the Cleveland County courthouse where he waived extradition during a 10 minute hearing.  He was then brought to the regional airport in Shelby and put on a flight to Charleston.
"The immediate threat to the community no longer exists, and we'll let the legal process run its course," said NC FBI Special Agent in Charge John Strong.
The break in this case came when investigators discovered Roof used his ATM card at a convenience store in south Charlotte.  We're told the feds picked up surveillance video from a Shell station at Providence Road near I-485.  He apparently bought a drink and a bag of chips around 6am.