Dash Cam Video Of Dylann Roof's Arrest Released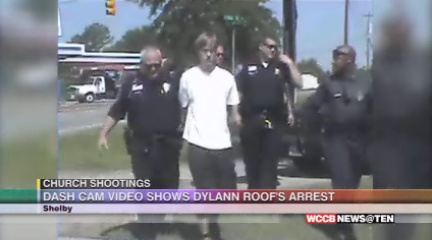 SHELBY, NC — We have newly released dash cam footage showing Shelby Police officers arresting the Charleston church shooting suspect, Dylann Roof, the morning after police say he shot and killed nine people about 250 miles away.  Officers stopped Roof off U.S. 74 and Plato Leed Road heading toward Shelby last Thursday.
Roof did not resist arrest and seemed to follow orders.  We also have the 911 call that tipped police off and radio traffic moments before Roof's arrest.
"Advised the suspect looks like the stuff they're talking about on the news from that Charleston shooting," said the 911 dispatcher.  "Said that he has a bowl haircut, white male.  Appears to be the vehicle they see on TV."
At the end of the video, you can see officers high fiving each other after putting Roof in the patrol car.