The Watch with Will Kennedy: CMPD Wants You to Hide, Lock and Take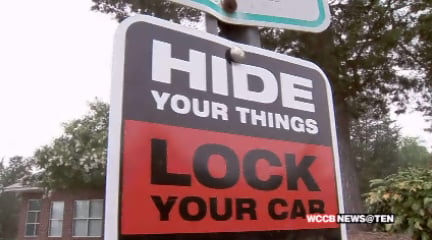 [gtxvideo vid="4lttWI1p" playlist="" pid="Bbt3TRDe" thumb="http://player.gtxcel.com/thumbs/4lttWI1p.jpg" vtitle="watch parks"]
CHARLOTTE — Officers call it LFA: Larceny From Auto. The numbers for this crime are spiking, especially at parks across the Charlotte area.
Thieves are looking for your valuables, especially those electronics, and breaking out the back window in vehicles to get them. 
"Yeah, I've noticed that before," says SouthPark resident Lauren Dittebrand, talking about a sign at Davie Park in South Charlotte. "I had a break-in at, like, my apartment complex to my car. So I've always been a lot more conscious since."
The signs are all around. Hide. Lock. Take. It's a mantra pushed by CMPD, urging people to hide their valuables, lock their vehicle and take those keys with you.
People know better, but many still don't do it. Especially people taking advantage of Charlotte's outdoor activities. Thieves have broken into vehicles at city parks 42 times in the last two months.
"These actual crimes are kind of spread out city-wide," says CMPD Officer Chris Kopp. "But it is a trend. It's a trend that speaks to not only what is going on in our city; but again, during the summertime more cars are getting broken into."
Vehicle windows get smashed, and peoples' valuables are taken in broad daylight. The suspects are breaking out the rear and back side windows and grabbing whatever they see.
"Crimes of opportunity, where somebody walks by a car, sees something that they want," says Officer Kopp. "They can smash out a window and grab it within seconds."
Items like purses, wallets, tablets and phones are being left in plain view, making it easy for the criminals. Dittebrand is trying to make sure she doesn't become a victim.
"I usually put things in my glove compartment, and I always take my keys with me," says Dittebrand. "I never leave a purse or anything. It always goes in the trunk."
But it's easier said than done, and letting your guard down could make you a target.
"There have been times when I've like been in a store and I come out and my cell phone is, like, sitting right in the seat," says Dittebrand. "And I'm like, 'Oh no!' I'm very lucky that someone didn't take that."
There were more than 8,000 cases of Larceny From Auto in Charlotte last year. The numbers were up more than 4% for the first quarter of 2015.