Waiting Child Malijah and Devyn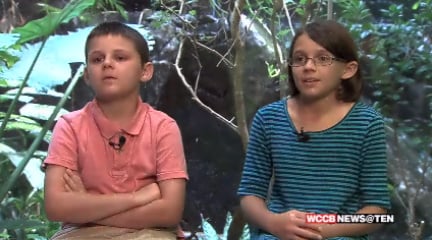 [gtxvideo vid="4VGJxRr5″ playlist="" pid="Bbt3TRDe" thumb="http://player.gtxcel.com/thumbs/4VGJxRr5.jpg" vtitle="Malijah and Devon"]
CHARLOTTE, N.C.-  In this week's Waiting Child segment we introduce you to a brother and sister who are smart, kind and outgoing.  Their bond is unbreakable.  They're looking for a forever family. 
Malijah is 10 years old and Devyn is her little brother, he will be going to the second grade in the fall.  It doesn't take long for you to notice how Malijah steps in as the 'older siste'r to take care Devyn, "I love him because he's sweet."
They both enjoy learning.  Malijah's says her favorite subjects are reading and social studies.  While Devyn's says he only likes three things about school, "Breakfast, lunch and then play time." 
They love playing outside, from building tents to imagining they're in a safari with their stuffed animals, "We pretend that we're zoo biologist and we go out there and not hunt them but we take them back and like study them and then let them back into the wild."
This dynamic duo is looking for a family who will love them and care for them.  Their brotherly-sisterly bond cannot be broken, "Because she loves me and I love her. "
You have the choice to change Malijah and Devyn's life forever.  Consider adoption today.
If you think Malijah and Devyn would be a good fit for your family contact the North Carolina Children's Home Society.