Kerrick Jury Questionnaire To Be Made Public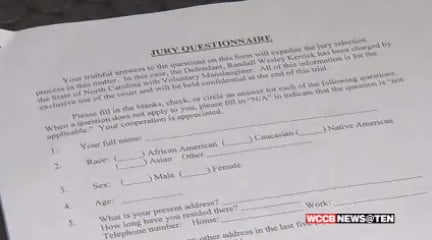 [gtxvideo vid="vHk1aExn" playlist="" pid="Bbt3TRDe" thumb="http://player.gtxcel.com/thumbs/vHk1aExn.jpg" vtitle="jury questionnaire"]
CHARLOTTE, NC — A lot of the discussion in court Monday as the Kerrick trial got underway centered around the jury questionnaire, customized just for this case.  For the first time in state history, the personal answers will be made public.  As WCCB Charlotte's Amy Cowman reports, the judge made some changes to what's being asked.
Wes Kerrick sat dressed in a business suit with his attorneys on the first day this trial.  His wife, sister and brother-in-law sat quietly behind him as debate ensued over what the public will know about the men and women who will eventually decide his fate.
"The court has concluded it is legally obligated to provide copies of these questionnaires," said Judge Robert Ervin.
The court released to the media this jury questionnaire, 44 questions for jurors to fill out for state and defense to use as a guide to pick.  But the debate came because for the first time in the history of North Carolina courts, a request was made to make the jurors' answered questionnaires public.  the judge granted it.
The judge went through and made changes to 10 of the 44 questions, not allowing specific details personal to an individual juror.  For example, giving a county versus exact home address, not identifying where someone works, or where they go to church.  Also questions about how much jurors have seen on TV and in the newspaper and if they have a positive or negative opinion of the police.
"It is unusual that a questionnaire of this length and detail be used in a case like this, and that the questions dealing with race could set up a potential appeal down the line." said WCCB Charlotte legal contributor John Snyder.  He went on to say, "Either side can challenge the dismissal of someone based on their race, regardless of if they're African-American or white, doesn't matter.  If you believe that the state or the defense is throwing people off the jury just because of what they look like, you can't do that.  So when you introduce that question into your questionnaire, it's unusual."
We also know more about the potential witnesses who could take the stand in this trial.  More than 200 people are listed on the defense's list — including former CMPD Chief Rodney Monroe, current Chief Kerr Putney, and about 80 CMPD officers.