Ferrell Family To Wear Purple And Black In Court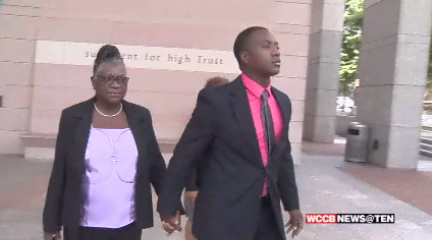 [gtxvideo vid="ysyWC8Cx" playlist="" pid="Bbt3TRDe" thumb="http://player.gtxcel.com/thumbs/ysyWC8Cx.jpg" vtitle="ferrell family"]
CHARLOTTE, NC — As we head into day four of jury selection, we're hearing from the families of Jonathan Ferrell and Officer Wes Kerrick.  WCCB Charlotte's Amy Cowman continues our trial team coverage from the courthouse.
"I would like to thank the city of Charlotte," said Jonathan Ferrell's brother, Willie Ferrell.
Willie Ferrell thanked all of their supporters Wednesday and asked people to show support by what they wear.
"Anybody who is coming to be there for Jonathan, be there for our family, if you could wear any purple or black, no matter what it is, please wear purple and black in honor of Jonathan," said Willie Ferrell.
Ferrell says the family still mourns Jonathan everyday.
"Whenever we go to the grave site, our younger nieces will always ask, 'Why isn't Jonathan coming along with us?  Why does Johnathan have to stay in this place by himself?'" said Ferrell.
Officer Wes Kerrick's family tells us they're glad the criminal trial is getting underway and feel good about the jury process so far.  His brother-in-law told WCCB Charlotte anchor Morgan Fogarty last week that they will be there for the duration.
"I want to be perfectly clear: we support him and continue to support him.  He's got a lot of support," said Kerrick's brother-in-law Brian Helms.
Ferrell says what happens during the trial is out of his family's hands.
"We put everything into God's hands, and we put everything into state hands and let God work with them and work through them," said Ferrell.
The Ferrell family is wearing the purple and black because the judge told them they can no longer allowed to wear the pins with Jonathan's face on them.