Kerrick Trial: State, Defense Select Nine Jurors Out of First Pool of Thirty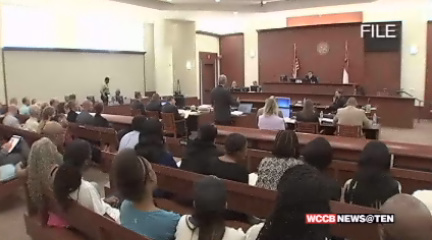 [gtxvideo vid="wpIDXeib" playlist="" pid="Bbt3TRDe" thumb="http://player.gtxcel.com/thumbs/wpIDXeib.jpg" vtitle="jury 5"]
CHARLOTTE, NC — After a long week of questioning, jury selection will continue Monday morning in the Wes Kerrick trial.  Nine jurors are now seated, and the judge recessed early Friday after they ran out of jurors from the first pool of thirty.
WCCB Charlotte reporter Amy Cowman was in the courtroom and has the latest.
"We're still grateful," said Willie Ferrell, Jonathan Ferrell's brother.  "Continue to pray, continue to stay strong, keep our family close by us."
The Ferrell family walked out of court Friday dressed in purple and black in honor of Jonathan.
"Jonathan's favorite color was purple, and I told everyone until this is over, colors purple and black for me," said Willie Ferrell.
After five days of jury selection and a pool of thirty possible jurors, seven women and two men are seated, with three to go.
WCCB Charlotte legal contributor John Synder says the lengthy process is to be expected.
"The number of people in light of only being 4 days of active court time is normal for a case of this seriousness," said Snyder.
Snyder says the state and defense will go through as many they need to find the right fit.
"These people were not selected because they're women, or African American or white.  They're selected because after answering 100s of questions, both sides found them to be fair," said Snyder.
Once the state is satisfied with the three replacement jurors, then the defense has the chance to question and strike and jurors they don't want. Then replacement jurors come up, and the process begins again until they have 12, and 4 alternates, at the courthouse.
Court resumes at 9:30 Monday morning.  Normally there are only two alternates, but due to the duration of this trial the judge ruled to have four alternates ready.