Kerrick Trial: Responding officer, CSI Testify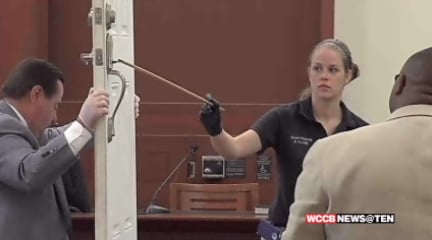 (CHARLOTTE, NC) – In a statement to investigators, Officer Adam Neal says when he arrived he saw Jonathan Ferrell charging towards officer Wes Kerrick's direction, and says he heard Officer Kerrick yelling "Get down, get down."
Officer Neal demonstrated how he says Ferrell was clawing at Kerrick in the ditch and says he didn't shoot because he didn't want to take a chance of hitting Officer Kerrick.
Reading from Officer Neal's official statement, Defense Attorney Michael Greene asked Neal, "You said the suspect was still, you know, like, trying to maul him, and, like I said, he shot again, he was still trying to go at him, is that correct?"
"Yes sir," said Officer Neal.
But the state pointed out never did he nor the other officer pull their guns. Testimony then turned to the front door of Sarah McCartney's house where the state says Ferrell ran for help, but the defense says he banged on the door causing McCartney to think he was trying to break in.
The crime scene investigator who collected both the screen door and front door showed samples she took that resembled blood, then the defense had her point out indentations in the door, which she said you could feel a surface change when rubbing your hands over them.