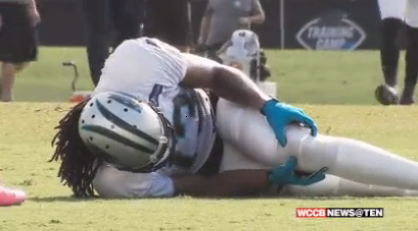 CHARLOTTE, NC — Call the Cats the "Walking-Wounded".  
"It's typical preseason, unfortunately," Head Coach Ron Rivera said.

As the preseason progresses, the Panthers continue to lose players to injury. The latest casualty is the team's center, Ryan Kalil, who will likely be shut down for the remainder of the preseason with what Ron Rivera is describing as a "knee sprain".

"He's very valuable to us. We are going to approach this cautiously," Rivera said.

It means the team may rely on the team's offensive right tackle, Mike Remmers, to move to center to fill the gap, temporarily.

"I feel confident in my skills at center," Remmers said. "But I know I have a lot of work needed. I need to get more reps so that it's second nature."

Kalil joins a litany of Panthers who are banged up. Wide Receiver Kelvin Benjamin was lost for the season last week when he tore his ACL in practice. Frank Alexander tore his achilles–finishing his season. Alexander was placed on waivers today. Defensive tackle Star Lotululei has not practiced since the first week of camp with a stress reaction in his foot. He was seen in a walking boot at the team's preseason game with Miami. Defensive End Charles Johnson is nursing a calf-injury and rookie wide receiver Devin Funchess also sat out practice on Monday with a hamstring issue.

"I know the guys are rehabbing and anxious," defensive back Josh Norman said. "They are biting at the bits to get back. I know we will love to have them back and we will welcome them with open arms."

The team will host New England in the team's third preseason game. You can catch the game on WCCB beginning at 7pm with the pregame show.