PANTHERS: Offense looking for 'Faster Start'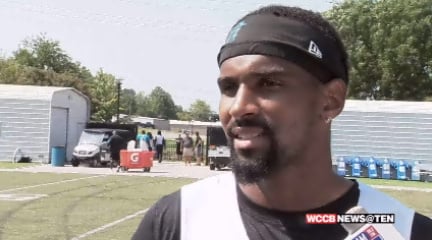 CHARLOTTE, N.C. (WCCB Charlotte) – The first team offense understands they need to get off to a "faster start".
The Panthers collected just eight yards in the first quarter of Saturday's preseason game. Wide receiver Corey Brown's confidence does not appear to be shaken after he dropped a pair of passes in the team's second preseason game last Friday night.
"I'm not worried about that," Philly Brown answered when asked about the drops. "As a receiver, that happens. That's the last thing on my mind right now. As an offense we just need to work to get better."
And the Panthers have been trying to do that without Devin Funchess–the body that will presumably fill the role of wide receiver Kelvin Benjamin, who was lost for the season last week with a torn ACL. Funchess has not yet been cleared by the team's training staff to work out with the team. He did participate in individual drills on the sideline.
While Funchess says he feels "all right", he does admit a level of frustration with not getting physical reps.
"Every time you get a little tweak it messes with your head," Funchess said after practice. "You just have to stay level headed and not get frustrated."
Defensive end Charles Johnson appears close to returning to the team on a full time basis. Johnson worked out in individual drills and on the sideline. It's unclear if the defensive end will be on the field Friday against New England. Ron Rivera said defensive tackle Star Lotululei, who remains in boot, is not in jeopardy of missing the team's week one game against Jacksonville.
Also of note, the team placed DE Frank Alexander, who tore his right achilles in Saturday's preseason game against Miami, on injured reserve after Alexander cleared waivers.