Jonathan Ferrell's Family Speaks To WCCB Following Dismissal Of Charges Against CMPD Officer Wes Kerrick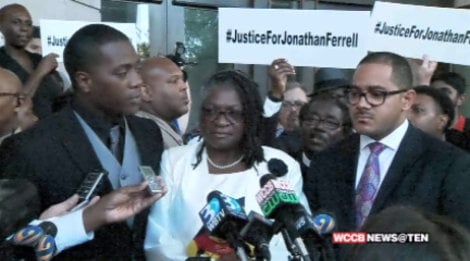 CHARLOTTE, N.C. — WCCB's Terrance Bates talked to Jonathan Ferrell's mother, Georgia, and brother, Willie, moments after the Attorney General's Office said they were dismissing the charges against Officer Randall 'Wes' Kerrick.
Ferrell's mother and brother both said they will continue to fight for justice for Jonathan.  They also said they are disappointed but not angry.
Kerrick is accused of killing Ferrell in 2013.  Ferrell, 24, wrecked his car in east Charlotte and after wrecking, Ferrell went to a nearby home. The woman inside called 911, saying Ferrell was trying to force his way into her home.
Investigators say Kerrick was one of three police officers who responded. Officers say once on scene, Ferrell charged at them and refused to listen to their orders to stop.
One officer fired a TASER at Ferrell, but according to the defense, the TASER had no effect on Ferrell. The defense says Ferrell continued to advance on Kerrick.
Kerrick shot Ferrell when he allegedly saw Ferrell reach for his waistband. The two then allegedly fell to the ground and began fighting. The defense says Ferrell hit Kerrick in the face and grabbed Kerrick's gun.
Investigators say Kerrick fired a total of 12 shots, 10 of which hit Ferrell. Ferrell was not armed. Kerrick is charged with voluntary manslaughter in the shooting.  His trial ended in a mistrial last week.
Watch on YouTube (https://youtu.be/jeTn0cs7WL8)