Previewing Tonight's 'Flash' Viewing Party with Wilson at Heroes Aren't Hard to Find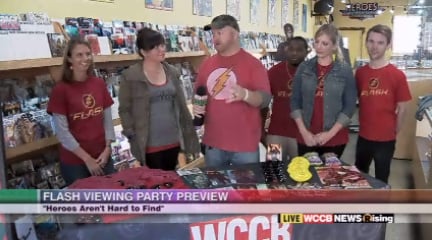 CHARLOTTE, N.C. – Wilson was at Heroes Aren't Hard to Find on 7th Street this morning getting us ready for tonight's season premiere of The Flash and the great viewing party WCCB will be having before the show!
With Wilson were a few of the great people who will be joining us at the party tonight. Andy Smith of Andy Smith Art who created our limited edition poster, Christopher Hollars with Batjeepster Rings, and Andrea Glagow with Unknown Brewing Company.
Join WCCB and the CW Street Team at 6pm at Heroes Aren't Hard to Find, 1957 East 7th St. for fun, games, giveaways and of course the viewing of tonight's new episode of The Flash at 8pm.  JJ's Red Hots,Taste Buds Popcorn and King of Pops will be on site plus the CW Street Team will be playing plinko for CWag prizes! And stick around after the premiere for a live Flash Chat!
Karla Marsh with Heroes gave us the info on some of the events that they will be having during the month of October.
WCCB will be running a contest for free tickets to EyeCon, The Vampire Diaries/Originals Convention in Atlanta this weekend.  Click HERE for entry to win the tickets.
Be sure to follow Wilson on Twitter @WilsonsWorld and online at WilsonsWorld.com.