Panthers Cornerback Charles "Peanut" Tillman On Got Game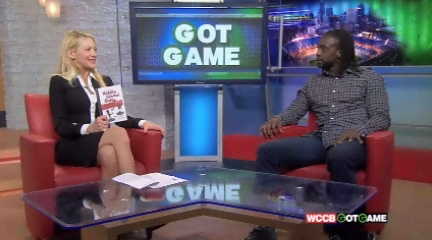 Panthers CB Charles "Peanut" Tillman stops by the Got Game set to preview Monday Night's game against the Colts and discuss his new book for kids, The Middle School Rules of Charles "Peanut" Tillman.
Tillman tells WCCB's Kelli Bartik that he hopes that his new book, which was released on November 1st, will help both boys and girls by teaching them everyday lessons in life.
Over a dozen seasons (2003-2014), Charles Tillman established himself as the greatest cornerback in the storied history of the Chicago Bears. For the 2015 NFL season, he signed with the Carolina Panthers, reuniting with former Bears defensive assistants.
A two-time Pro Bowl selection, Tillman has distinguished himself as one of the NFL's most opportunistic defensive backs, intercepting 36 passes and forcing 42 fumbles—the most in the league since his rookie year in 2003. He popularized the "Peanut Punch," a nod to his childhood nickname and a tribute to his unique ability for jarring a football from the grasp of an offensive player.
While growing up, Charles and his family traveled around the world while his father ("Deddy") served in the U.S. Army. Charles ("Peanut") and his older brother Donald ("Duck") attended 11 different schools. Lightly recruited out of Copperas Cove High School in Texas, Tillman was offered a single Division 1-A scholarship, but he shined at the University of Louisiana at Lafayette and was selected by the Bears in the second round of the 2003 NFL Draft.
"My experiences growing up molded me and helped me become the man I am today. Although I have made many mistakes and suffered some setbacks, I always searched for the lessons," says Tillman. "Guidance can come from family and those around you, so be on the lookout for the people who can be a positive influence in your life."
Tillman has experienced his share of difficulties as he shares stories of dealing with racism, feeling displaced, challenges at school, the death of a loved one and his parent's divorce.
The Middle School Rules of Charles "Peanut" Tillman as told by Sean Jensen, features defining childhood stories of a young, well-traveled "Peanut," and the lessons he learned that include:
Determination, persistence, and humility are invaluable qualities.

Understand the value of parents, family, teachers and coaches.

Commit to study in school and practice in sports.

Don't be afraid to ask for help. You learn great lessons in winning and losing.