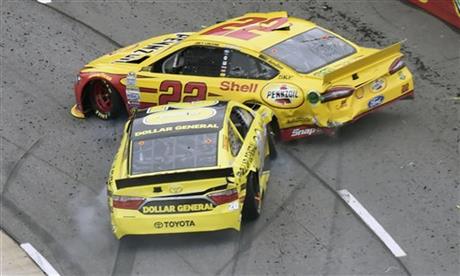 WCCB Charlotte — NASCAR has parked Matt Kenseth for two races for his role in crash with Joey Logano deeming the infraction a 'behavorial penalty'. Logano was the leader at the time while Kenseth was nine laps down. In addition, Kenseth, the driver of the No. 20 car, is placed on probation for a six-month period.

"Based upon our extensive review, we have concluded that the No. 20 car driver, who is no longer in the Chase, intentionally wrecked the No. 22 car driver, a Chase-eligible competitor who was leading the race at the time," said Steve O'Donnell, NASCAR executive vice president and chief racing development officer in a statement. "The No. 20 car was nine laps down, and eliminated the No. 22 car's opportunity to continue to compete in the race.

Kenseth is eligible to return for the final race of the season at Homestead.

In addition, Danica Patrick has been penalized for a 'behavioral penalty' as well and has been fined $50,000. She will lose 25 championship driver points and place on NASCAR probation through Dec. 31.