Wilson Presents His First Ever "Wilson's Moment of Good" Award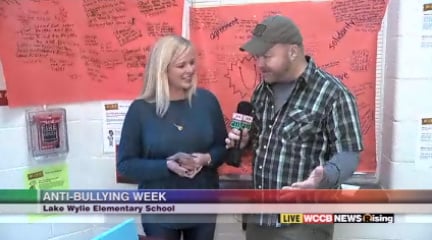 LAKE WYLIE, N.C. –  Wilson presented his first "Wilson's Moment of Good" award today to Rebecca Fennel, a 4th grade teacher at Lake Wylie Elementary School.  He was as excited to give it as Rebecca was to receive it.
Mrs. Fennel as been a big part of the school's leadership and anti-bullying campaigns.  After seeing an idea on YouTube, she and her husband, on their own time,  built a "buddy bench" for the school playground.  When kids feel lonely or sad and need a friend to talk with, they can sit on the bench where other students can stop by to talk or ask to join them to play.
The $500 American Express gift card will allow Mrs. Fennel to continue her dedicated hard work for her students at Lake Wylie Elementary.
"Wilson's Moment of Good" is a partnership with Salsarita's Caring Cantina to recognize people that have gone above and beyond…you never know when Wilson might do it again…stay tuned and do good!"
Be sure to follow Wilson on Twitter @WilsonsWorld and online at WilsonsWorld.com.