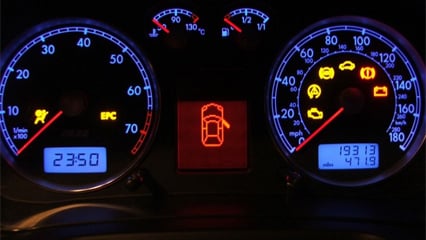 It doesn't matter what the make or model of the vehicle you own is. No matter what kind of car you drive, it's important to give it regular auto service in Charlotte so that it not only drives well but delivers the type of performance you're looking for! At Toyota of N Charlotte, we have a state of the art auto service center on location so that drivers can easily get their vehicle the kind of care that's needed whenever it's time for them to bring in their car for some routine maintenance or other auto repairs. However, sometimes a situation arises where drivers need to give their vehicles some additional attention before it was scheduled. 
What do the dashboard warning lights in your car mean?
If you've ever seen a light come on in your car's dashboard, then you're probably very familiar with that feeling of uncertainty and confusion – especially if it's a warning light that you've never seen before! We know that taking care of your vehicle can sometimes be an overwhelming process. If you're not sure what types of auto service in Charlotte the warning lights are indicating are needed, then keep reading. We have the answers for you right here!

Oil pressure: If a light comes on that indicates something is wrong with the car's oil pressure, you'll want to pull over as soon as possible to get this checked out. Poor oil pressure can lead to engine damage, and that can be a very costly repair! Sometimes a quick fix such as topping off the oil level is all that's needed. However, if the light doesn't go off, then some

 

important auto service

 

in Charlotte is probably needed and should get taken care of right away.

Brake system: This warning light could be letting the driver know about any number of different issues with the car's brake system. Sometimes the light is on because a simple fix needs to be performed – such as making sure the emergency brake isn't on. However, if the emergency brake is off and the light continues to stay on then it's important for a certified and trained mechanic to examine the vehicle's brakes and the brake system as soon as possible.


Check engine: If the check engine warning light comes on, then obviously it might be time to get the engine checked. The good news is that if it only flashes momentarily then it might have just been a temporary problem. However, if it never goes off then you'll want to make an auto service appointment as soon as possible!
Toyota of N Charlotte provides valuable auto care
With so many different things to take care of to help your car stay in tip-top shape, it's understandable that drivers want a convenient and affordable place to visit in order to get their vehicle the auto care it needs. 
At Toyota of N Charlotte, our car service center is open every day at incredibly convenient hours so that this should never be a problem! If you're ready to make an appointment, the process is easy. You can either schedule your auto service appointment online, or call our Service Department at (888) 378-1214!