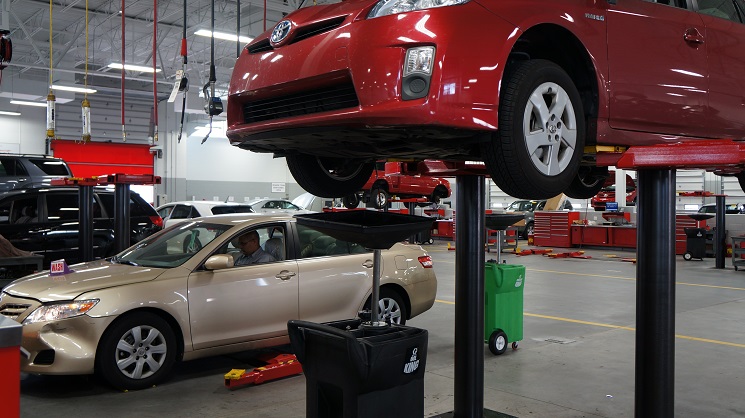 If you own a vehicle, then chances are you're very familiar with some of the work and effort that's involved to not just care for it, but also help it deliver optimum performance on a regular basis. One important aspect of auto service in Charlotte that can't be ignored is fluid changes – especially when it comes to the oil. There are many different parts involved when it comes to taking care of a vehicle, and we know that it can be easy to overlook simple services. However, remembering to get certain types of routine maintenance taken care of at Toyota of N Charlotte might be easier when car owners know why these services are so important. 
Take care of oil changes in Charlotte today!
Getting your vehicle an oil change in Charlotte is extremely important for a lot of different reasons. 
For starters, did you know that the oil actually helps protect the engine? It helps keep items such as dirt and debris from reaching it – materials that could cause serious harm and damage. Remembering to get oil changes in a timely manner may not always be the most convenient task, but it can help save you a lot of time and money down the line by helping the car's engine stay protected!

Taking care of this fluid change also helps ensure that the internal parts are smooth and won't grind against each other while moving. If the oil is too old, then it may not be able to serve as a proper lubricant. This could cause significant damage, and also lead to more costly repairs down the line. 


Bringing in your vehicle for regular oil changes also gives a certified and trained mechanic the opportunity to look at the car and make sure everything is in working order. A small problem might seem insignificant now, but if left unattended it can grow into a greater issue. Regular fluid changes provide the opportunity for a mechanic to examine the vehicle, and note if anything else needed to be attended to. 
Avoid costly auto repairs with Toyota of N Charlotte!
Don't stress about trying to keep up with the expenses involved with routine auto service, either. Whether you need a routine oil change taken care of, or are looking for a different kind of auto care to be addressed, we can help you and your budget out! You probably already know that we have a state-of-the-art auto service center on location. Did you also know that we routinely feature auto service specials, too? 
Be sure to examine the service specials we feature before you come in. Chances are we'll be offering a cost-saving opportunity that's right for you! Think it's time to get your vehicle some auto care? Why wait when you can take care of it today? Our Service Department keeps incredibly convenient hours so that you can address the auto care that's needed in a timely manner. Give us a call at (888) 378-1214 to schedule your appointment today!