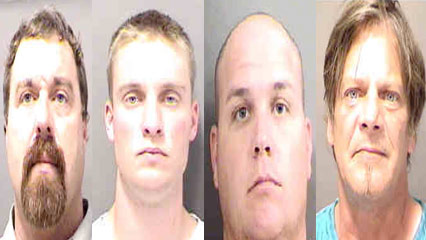 CHARLOTTE, N.C. — The former Cherryville police officers involved in crimes that included transporting stolen goods and cash have been sentenced to prison. 
Two former law enforcement officers, Frankie Dellinger and Wesley Golden, and their civilian co-conspirator, Mark Hoyle, were sentenced to prison for their role in a conspiracy to transport stolen goods and cash in Gaston County. 
Dellinger served 19 years as a police officer with the Cherryville Police Department and the Gaston County Sheriff's Office.  He was sentenced to 36 months in prison, followed by two years of supervised release. 
Golden, also an officer for Cherryville Police and a Reserve Captain at the Gaston County Sheriff's Office was sentenced to 20 months in prison and one year of supervised release. 
Their civilian accomplice, Mark Hoyle, of Cherryville was sentenced to serve 21 months in prison and two years of court supervision. 
The defendants pleaded guilty to conspiracy to transport and/or receive stolen property and conspiracy to extort under color of official right.  Hoyle and Dellinger also pleaded guilty to money laundering conspiracy. 
In November 2013, two former Cherryville police officers involved in a similar conspiracy arising from the same investigation received prison sentences.  Casey Crawford was sentenced to 33 months and David Mauney III was sentenced to 18 months in prison. 
A sixth defendant, John Hendricks, was sentenced to two years of probation.