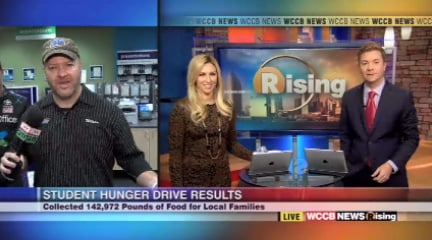 CHARLOTTE, N.C. –  Last month Wilson visited Ardrey Kell High School to find out more about the school's participation in the area  Student Hunger Drive.
This year 15 local high schools in Charlotte, Concord and Fort Mill in South Carolina competed to raise can goods for their Student Hunger Drive which supports the Second Harvest Food Bank.  The schools in the area are compete to win $2,000 for their school as well as bragging rights for raising the most pounds of food per student for Second Harvest Food Bank.
The  2014 Winners aare as follows:
Division I Winner:  Providence High School
Division I Runner-Up:  Butler High School
Division II Winner:  Cabarrus-Kannapolis Early College High School
Division II Runner-Up:  Nations Ford High School (Fort Mill School District)
Most Improved:  Butler High School
Most Creative Food Collection Activity:  East Mecklenburg High School
Food Lion Feeds MVP Student Scholarship Winner:  Alexis Vetack, Providence High School
Teacher/Advisor Award:  Lorna Graves, Butler High School
Division winners earned a $2,000 prize for their schools and runners-up earned a $1,000 prize for their schools.  The Most Improved and Most Creative Collection Ativity earned a $500 prize for their schools.  The Teacher/Advisor winner earned a $500 US Airways travel card.
The Carolinas Student Hunger Drive is presented by Food Lion Feeds and sponsored by Snyder's-Lance, Chick-fil-A, Coca-Cola, Domino's Pizza, Charlotte Hornets and the Charlotte Checkers.
100% of the food donated to the schools for the Student Hunger Drive goes directly to Second Harvest Food Bank for families living in Charlotte and surrounding areas.
Be sure to follow Wilson on Twitter @WilsonsWorld and online at WilsonsWorld.com.